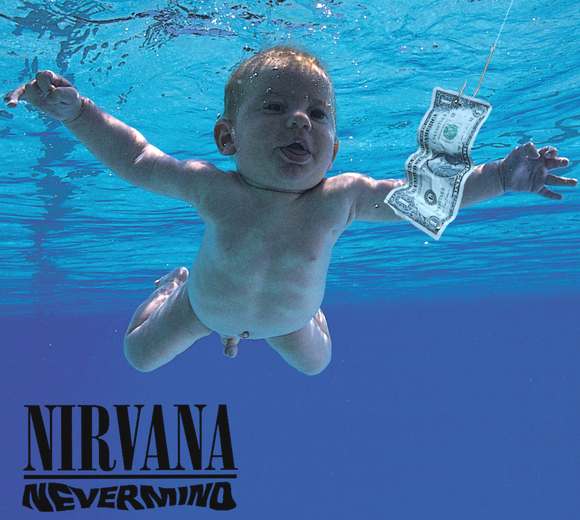 This was going to be a post about Soundgarden's "Badmotorfinger" … the album which helped me make the shift from the rock/funk of the Red Hot Chili Peppers to grunge.
But it's not.
In January of 1992, a band I was quite fond of had a concert at Fisherman's Wharf at the Gold Coast. That band was the acoustic punk group The Violent Femmes. Their support act was an emerging rock trio from Seattle called Nirvana.
I bought tickets from Rocking Horse Records on Albert St in Brisbane, but on the night before the concert someone from Red Rooster Sherwood rang and asked if I could fill in on a shift. To this day, I don't know why, but I said yes, and missed the concert.
I have grown to love the Violent Femmes and I remain flabbergasted as to why I would give up tickets to stuff chickens. Missing NIrvana wasn't a big deal at the time .. but obviously now, I feel a touch silly about the situation.
Over the next few weeks, Nirvana's breakthrough hit "Smells Like Teen Spirit" dominated the airwaves. I loved it. Who didn't? I rented "Nevermind" from a new CD Library that opened on Oxley Road. (Can you believe there were CD Libraries?) I took it home and listened to it. At first, I thought all of the songs sounded too similar, with the same four-chord progressions and soft-verse, loud-chorus structures.
So I didn't even bother taping it to cassette. I had also borrowed "Badmotorfinger" … that went to tape. I had borrowed Pearl Jam's "Ten" … tape. I had borrowed Metallica's black album … tape. Mudhoney's "Every Good Boy Deserves Fudge" … tape.
But by the time they released "Come As You Are" .. I was ready for another listen, and this time, it stuck. So simple, so powerful, so awesome. Once again, an album took over my life. I listened to nothing else for weeks. I bought Bleach and listened to it endlessly. I borrowed "Insecticide" … same deal.
It was the album that disaffected youth would identify with. The album that showed Kurt Cobain knew what you were going through, that showed he identified with your teenage struggles. The thing is, I wasn't disaffected. Sure, my first year at University wasn't going so well but life was pretty good and I was surfing most weekends.
So what was it? The simplicity? The lyrics? Dave Grohl's drumming? I honestly don't know … but listening to it tonight, I suspect it was the sincerity. The guitar and the lyrics … they're so fucking intense. "Intense" .. that's the word. Never have I heard an album as intense as this. Not just WHAT Kurt's singing, but HOW he sings it. I mean, compare the electric version of "Polly" on "Insesticide" to the stripped back, raw version of "Polly" on "Nevermind" … it's chalk and cheese. Intense.
In 1993 they released In Utero. It was dark, which is kind of what I expected, and while not quite up to the song-after-awesome-songness of Nevermind, had some amazing moments ("Heart Shaped Box" might be their best song of all)
And they released their Unplugged album. Again, it was intense, but not in the same in-your-face way. It was quietly intense (and all the more scary for it.)
And he killed himself.
And I was driving from my parents house in Cairns to the shops when I heard it on Triple J.
And I felt like I knew it was coming. And I was sad.
But then I was angry with him. I felt like he'd let us down … because he HAD changed music. He was our voice.
But mostly, I was sad.
And now, listening to Nevermind's closing track "Something in the Way" … I'm sad.
Such a waste.
The riesling was German and too sweet but I drank two bottles of it becuase Pino Grigio is over-rated. It's just Italian chardonnay … and not the good, new, cool chardonnay. It's the old shitty kind. See what Nirvana does to you?